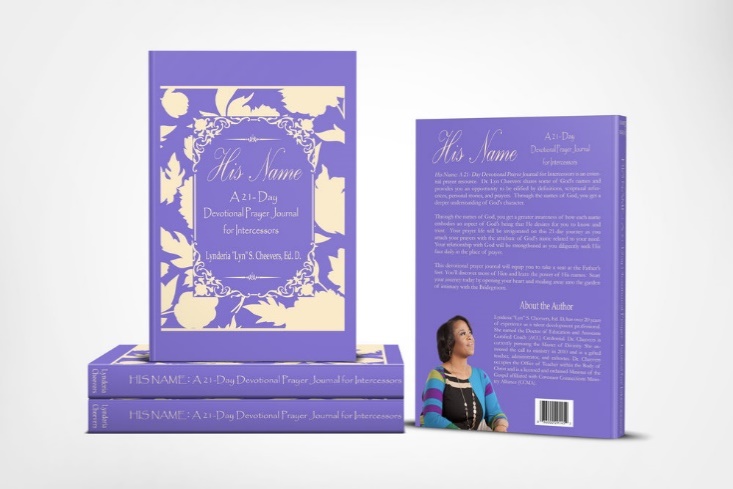 Publications
His Name: A 21-Day Devotional Prayer Journal
for Intercessors
His Name: A 21- Day Devotional Prayer Journal for Intercessors is an essential prayer resource. Dr. Lyn Cheevers shares some of God's names and provides you an opportunity to be edified by definitions, scriptural references, personal stories, and prayers. Through the names of God, you get a deeper understanding of God's character.
Through the names of God, you get a greater awareness of how each name embodies an aspect of God's being that He desires for you to know and trust. Your prayer life will be invigorated on this 21-day journey as you attach your prayers with the attribute of God's name related to your need. Your relationship with God will be strengthened as you diligently seek His face daily in the place of prayer.
This devotional prayer journal will equip you to take a seat at the Fathers feet. You'll discover more of Him and learn the power of His names. Start your journey today by opening your heart and stealing away into the garden of intimacy with the Bridegroom.
Author
Lyn Cheevers has over 20 years of experience as a talent management professional. She earned the Doctor of Education from Nova Southeastern University and the Master of Divinity from the Interdenominational Theological Center. She holds the Associate Certified Coach (ACC) Credential from the International Coach Federation. Dr. Cheevers attends St. Philip African Methodist Episcopal Church (Atlanta, GA) where the Rev. Dr. William D. Watley serves as Pastor. She is a licentiate, member of the ministerial staff, and teacher in the Christian Education Department at St. Philip.
Dr. Lyn answered the call to ministry in 2010. She was ordained as a Minister of the Gospel in the Covenant Connections Ministry Alliance (CCMA) by Apostle Demontae Edmonds and is a gifted teacher, administrator, and exhorter. As a woman of vision, she is recognized for her tenacity, integrity, and leadership. Dr. Lyn serves on the prophetic ministry team at Life Center Ministries (Dunwoody, GA) and is the Founder and Chief Learning Officer of Beacon Talent Development Consultants, Inc. Beacon is a teaching ministry which offers speaking, workshops, consulting, and coaching services. She has two sons- Stephen and Anthony, a daughter-in-love- Keundra, and two grandsons- Asher and Beaux. She and her younger son live in Atlanta, GA.
Purchase this Book
If you would like to purchase this book click the below Buy Now button. Please indicate in the instructions to seller whether you would like a signed copy.
Buy Now

join our mailing list
Be the first to know about special events